Florida - 15 October 2010
We are just days away from our trip to Acadia National Park in Maine. Neither of us has been to Maine before and we are looking forward to many new and exciting things.
We are staying in a Bed and Breakfast called Ann's Point Inn. It is near the Western part of the Acadia National Park. We haven't stayed in a B&B before either, so we are full of new experiences.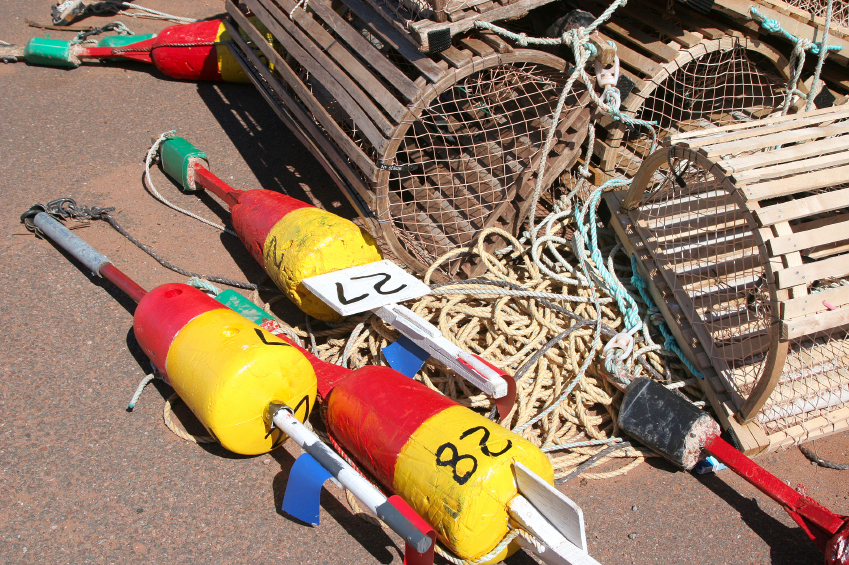 We will be flying Southwest to Manchester, New Hampshire, then driving to Ann's Point. We figure about a 4-5 hour drive along the coast should do it. We could have flown into Bar Harbor, but we thought this might be a chance to drive through some areas we haven't visited before. We have our fingers crossed that there might still be some color in the leaves when we get there. We will be flying with our walking sticks so we'll let you know how that works with our flight
We know that it's gonna be cold up there. But it sounds so good after the hot weather we have been having. We'll be hiking so the cooler weather should be good.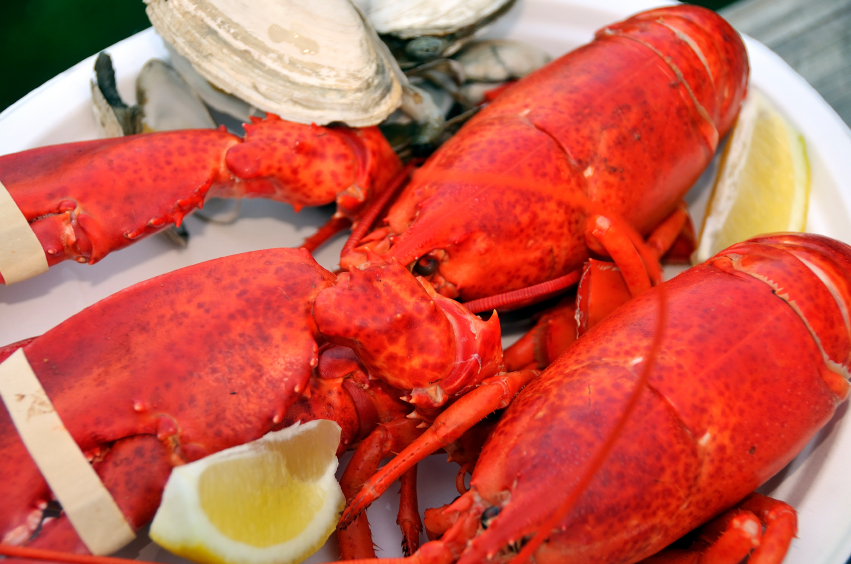 We're working on our agenda. We'll probably spend at least one day in Bar Harbor. We will be eating lobster -- lobster for breakfast, lunch and dinner. Lobster on a stick, lobster stew, lobster thermador, lobster rolls, lobster and rice, lobster po'boy, lobster etouffe, lobster cakes.....

We will use these pages to document and share our adventure. The Maps and Routes pages will show the areas we are visiting. Photo Gallery is going to be a series of slide shows sharing what I see. Contact is a link to my email, and Links is where you might find more information on some of the things I write about.
So now we are ready for our adventure to begin. Please return here to share it with us.
Maine - 17 October 2010
We arrived at Ann's Point Inn in Bass Harbor just after 7 PM on Sunday, Oct 17. The fight to Manchester, NH was uneventful, as was the 5 hour drive to Mount Desert. That is after the obligatory wrong turn leaving the airport. We chose a route that took us along the Maine coast north from Portland. It is scenic with lots of small fishing/tourist villages along the way and many vistas of the Atlantic Coast.
At the inn, we were greeted by Jeanette Feuer, who showed us to our room and gave us some general info on the property and procedures.
Needless to say we were hungry after the trip and figured our best bet for the night was to find an eatery in Southwest Harbor, a small town about 2 miles back along the main road. Southwest Harbor is directly across Somes Sound from Northeast Harbor (names are easy to come by in these parts). Jeanette had informed us that of the half dozen restaurants on our list, 3 had already closed for the season. Columbus Day is the traditional end of season.
Our choice that night was Cafe 2. A fortunate pick as it was their last night before closing. The owner told us she was leaving for her summer home in St. Petersburg, Fl., the next morning. As a closing special, the wine list was half price, so we treated ourselves to one of our favorite Albariños.
We did forego LML (Live Maine Lobster) in favor of a couple of seafood pasta specials, capped off with a local treat, Blueberry Balsamic sorbet (more info later).
During the meal a local couple came into the dinning area and were greeted warmly by almost everyone in the place, customers and employees alike. The man was a cordial, jolly fellow, with beard, cheeks and bright eyes a la Santa Claus, As he passed our table I joked that we felt slighted since we apparently were the only people in the room he did not know. He laughed and mimicked a sincere familiar greeting before rejoining his party Our first hint as to the nature of this small, yet open and friendly community.
I must admit that we both arrived with preconceived notions about the unfriendly, abrupt New Englanders. We left with a complete opposite opinion, having spent a week among some of the most helpful, open and genuinely sincere people we've ever met.
An after dinner survey of the town (one blinking light for traffic control, but no DQ and vicinity, we returned to API to settle in. That is when we found out that the API elves leave fresh baked cookies for the guests to enjoy before bed. This night was chocolate chip.
Maine - 18 October 2010

We are in our well heated, comfortable room at the Ann's Point Inn. We have had a nice day of some early morning hiking and sightseeing.
We started today with a yummy breakfast at the B&B -- fruit, scones, tortilla with eggs, asparagus and potatoes. We did an easy hike this morning, then drove around to the highest point here - Cadillac Mountain. The temperature was between the low 40's and low 50's the whole time and the sun has been out. It's been pretty windy, though, with gusts to 30 mph, so it seems a lot colder out there than it is.
We've discovered that we are here in the transition time between 'season' and 'winter'. The restaurant we went to last night closed down for the season. So one of the things we did today was determine what restaurants would be available this week while we are here. We've found a place where we had lunch (lobster, of course) and dinner, and while we don't plan on eating there all the time, the food is good and the folks really nice. We were in the restaurant tonight and Marcel was joking with the waitress about us sitting side by side because we are newlyweds (of 18 years!) and these really nice men sitting across from us paid for 2 glasses of champagne for us when they left. We would have told them we were kidding, but it was too late and so we just enjoyed their random act of kindness. So much for New Englanders being unfriendly.
The leaves are just beautiful here. Deep yellows, oranges and reds. I think I have finally hit a peak leaf season somewhere. We are hoping to capture it on film, but it is hard to do it justice.
Tomorrow we will do a longer hike on Acadia Mountain. More strenuous. We will be taking lunch (which is a good thing, as my pants are getting tight already).
Much love to all. Pictures are coming.
Marcel added:
After a "warm up" hike to the nearest Lighthouse and another around a deep water cove used as ship shelter in the old days, we were ready for lunch. Preferably steamed lobster.
Dry Dock Cafe in Southwest Harbor was open and serving. We had a cold draft each and a dozen Damariscotta Oysters, cold and fresh these "Dam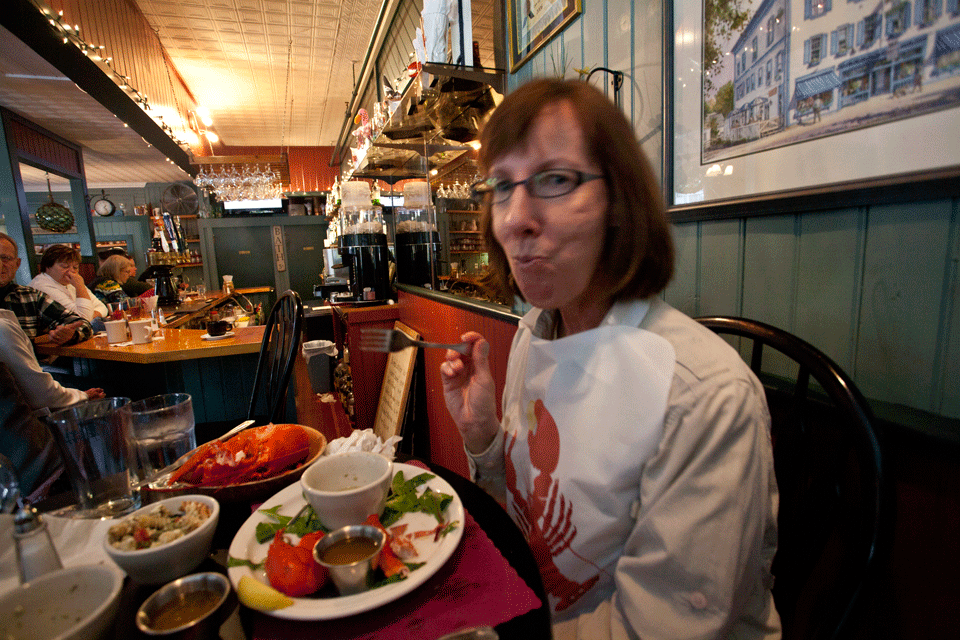 River" oysters are the best I've ever had. They are salty and clean finishing and delicious. After the Oysters comes the Lobos, steamed Maine lobster, Homarus americanus. If there is such a thing as a gift from god, this is it.
With our bellies full and happy, we scouted around the town to locate another eatery we were interested in. Along the way we stepped into a wine and cheese shop, and we met the owner/manager who shared our interest in Spanish wines. We purchased a bottle of red to have in the room, in case of emergencies.
We found our car, and drove to Bar Harbor for a quick look-see. Then drove to the top of Cadillac Mountain (named for the French explorer).
We ate at the Cafe Dry Dock restaurant again, both eating salads, as we were trying to eat a little lighter than the previous night. Of course the salads were huge -- so much for eating light.
Maine - 19 October 2010
Another great breakfast, and some talk with the other guests and we set out for Beech Mountain. The trail we had chosen was a short hike (these seem more like climbs than hikes) to a ledge overlooking the Echo Lake Valley. The ledge is just wide enough to walk out on and to set up a tripod, so I was able to get some beautiful images of this colorful area. Echo Lake Panorama.
On the hike down, back to the car, we discovered that Beth had had a blowout in her hiking boots. The bottom sole was coming off. The next hike we were going to attempt that day was much more challenging than Beech Mountain, so, having seen a store in Southwest Harbor that sold women's shoes, we decided to buy a new pair. We found a nice pair of Merrill's (that are more comfortable than the original boots) for a reasonable price and we were off.
The second hike was on Acadia Mountain. Two and a half miles, but considered strenuous. We weren't sure what that meant exactly, but it did prove strenuous. We stopped for lunch at a spot overlooking Somes Sound by a little waterfall. Then we continued on up the mountain (and up the mountain) to the end. We had to really move fast as it was getting dark. The setting sun was a concern because when we reached the top the sun was about an hour away from setting behind a nearby mountain. Finding the trail slashed (Dark Blue) would have been tough in the twilight, and we had to traverse another quarter mile along the ridge top. We made it back to the Fire Road with a little time to spare, but only by scurrying down the granite outcrops. We got some good pictures here, as well.
We ate dinner that night at a new restaurant for us, Red Sky. Excellent food -- we both had the Lobster Risotto, which is one of their signature dishes and yummy to boot. Then we were back to the B&B to warm up by the fire, then on to bed.
Maine - 20 October 2010
The next day we got up and rented bicycles. Our rental car was a GM crossover SUV thing so we were able to load the rented bikes into the car and head off for Acadia National Park.
The park has miles of carriage roads in it. The roads were constructed by John Rockefeller and were intended to only carry carriages and horses. Today only walkers, bikers and horseback riders can use the roads.
We biked to the Jordan House -- the only restaurant in the park, known for its popovers. We had some lunch, warmed up, then biked back.
This day, like most of the time we spent in Maine was very windy. While biking on the carriage trails we would get hot, remove our jackets, then find a spot to coast on the bikes and get cold again. The biking was tougher than it looked -- even the 2 young folks staying at the B&B later told us that it was tiring for them.
That night we got a real treat. The Fiddler's Green restaurant was open (Wed. thru Sat. only). We made reservations (by now there were fewer and fewer restaurants still open), and when we arrived we were greeted by the nice lady from the wine and cheese shop. She is part owner of the Fiddler's Green. She made a cozy table/booth setting for us and we were quite happy and thrilled with the menu.
After finishing our appetizers, we saw another couple from the B&B arrive and we invited them to join our table. It was great as they are nice folks from Ohio and we enjoyed the company along with the meal. Desert was strawberry balsamic sorbet! Apparently there is a local ice cream make who specializes in the fruit balsamic treat. I must say that is was very good and I had more a couple of nights later.
On the way out of the Fiddler's Green, we ran into the nice fellow we had seen the first night, the bearded jolly man. We feigned casual greeting and had a good laugh, only this time we introduced ourselves and wished each other well. One of the hostesses allowed that he is in local advertising business and certainly knows everyone.
Back to our comfortable room for some rest. Tomorrow would be Bar Harbor sightseeing day.
Maine - 21 October 2010
Today, Thursday, was supposed to be the bad weather day. So we had planned to sightsee in Bar Harbor, Seal Harbor, and the Park Loop Road. The weather held until after sunset so it wasn't to bad a day.
Bar Harbor is the Key West of the North. Tourist shops, bars and restaurants, and cruise ships in September and October. The cruise ship folks are easy to spot because the are sporting mal de mar patches behind their ears. We bought a couple of souvenirs and trinkets, and had a big lunch of oysters, lobster and clams, and beer. Very good (though overpriced) and a view over the bay.
At the next table was a young couple from Switzerland, and their young son. We began conversing with them when they asked about the lobsters. The had not tried them before and were thinking it was an adventure to eat one. With help from old vets like us, they were soon delighted with the choice.
Seal Harbor is a little town with some very nice vacation homes in the hills overlooking the ocean. Seal Harbor is the original site of the Rockefeller homes.
The Loop Road is a one way, two lane road that rambles through the park south of Cadillac Mountain. It runs through forest and lake scenery, then opens onto bluffs by the sea. Here we found Thunder Hole and The Perpendicular. Two interesting spots, and us without a camera. We decided on the spot to return on Friday for photos.
After the big lunch, we decided to stay in for the evening and just snack on some treats and sample our wine. API has an extensive DVD library, and we found a movie we had not seen, and we settled in while a big rain, hail and wind storm raged outside.